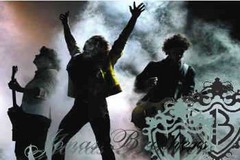 Jonas Brothers New Album: A Little Bit Longer
In stores NOW!!! Go pick up a copy.
Welcome to *JBlovers*. JBlovers is a fansite to support and of course show our love for the Jonas Brothers. The Tour Dates link will show you the recent tour dates of the JONAS BROTHERS. Links will bring you to a page of links where you can visit other Jonas related sites such as their official website and myspace. The Pictures link will bring you to a bunch of pictures of THE JONAS BROTHERS we have posted to share with you guys. The Videos link is all the Jonas Brothers music videos that they have ever made from 06- until now. The New Album link will tell you all about the recent album released by the Jonas Brothers. Contact Us if you have any questions..the contact us link will bring you our email addresses. Thank you so much for visiting our site. Just remember we are no way related sites with Columbia Records, Hollywood Records, the Jonas Brothers, or their management. Always remember... Peace, Love, Jonas.