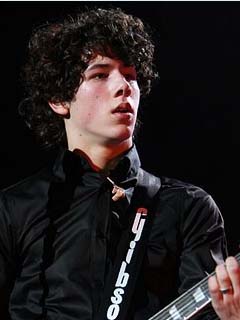 Nick Jonas
Name: Nicholas Jerry Jonas
Nick-Name: Nick, Mr. President, and Nick J.
Date of Birth: September 16th, 1992
Place of Birth: Dallas, Texas
Height: 5'6"
Star Sign: Virgo
Chinese Horoscope: Monkey
Family: Parents- Kevin (Paul) Jonas Sr. and Denise Jonas.
Siblings- Kevin Jonas, Joe Jonas, and Frankie Jonas.
Hobbies: songwriting, baseball, collecting baseball cards, tennis, and golf.
Instruments: guitar, piano, and drums.
Favorite Food: Steak
Favorite Color: Blue
Favorite Ice Cream: Cotton Candy
Favorite Sport: Baseball
Favorite Band/Artist: Switchfoot
Favorite Song: Supersticious
Favorite Actor: Matt Long
Favorite Actress: Keri Lynn Pratt
Favorite Movie: Finding Neverland
Favorite T.V. Show: Lost and Sports Center.