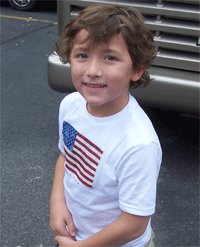 Frankie Jonas
Name: Franklin Nathaniel Jonas
Nick Name: Frankie, Frank the Tank, The Man, and The Bonus Jonas
Date of Birth: September 28th, 2000
Place of Birth: Wycoff, New Jersey
Height: 4'5"
Star Sign: Virgo
Family: Parents- Kevin (Paul) Sr. and Denise Jonas
Siblings: Kevin Jonas, Joe Jonas, and Nick Jonas.
Instruments: guitar and drums.
Favorite Color: red orange
Hobby: Collecting Webkinz
Favorite Sport: Baseball
* Frankie is not in the group, but he has created his own. He actually writes his own songs and asks his brothers for advice. He changes the name of his band a lot! We love you, Frankie!!