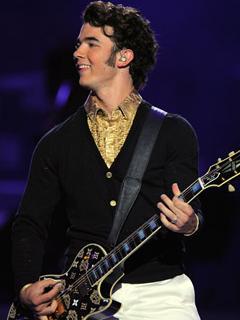 Kevin Jonas
Name:Paul Kevin Jonas ll
Nick-Nam Kevin & K2
Date of Birth: November 5th, 1987
Place of Birth: Teaneck, New Jersey
Height: 5'9"
Star Sign: Scorpio
Chinese Horoscope: Rabbit
Family: Parents- Paul (Kevin) Jonas Sr. & Denise Jonas
Siblings- Joe Jonas, Nick Jonas, and Frankie Jonas
Hobbies: Playing guitar and bowling.
Instuments: Guitar
Favorite Food: Sushi
Favorite Color: Green
Favorite Ice Cream: Rocky Road
Favorite Sport: Pole Vaulting
Favorite Band/Artist: John Mayer
Favorite Song: 3x5- John Mayer
Favorite Actor: James Dean
Favorite Actress: Rachel McAdams
Favorite Movie: About A Boy
Favorite T.V. Show: Jack & Bobby
Celebrity Crushes: Carrie Underwood, Kellie Pickler, Hilary Duff, and Hayden Panettiere.